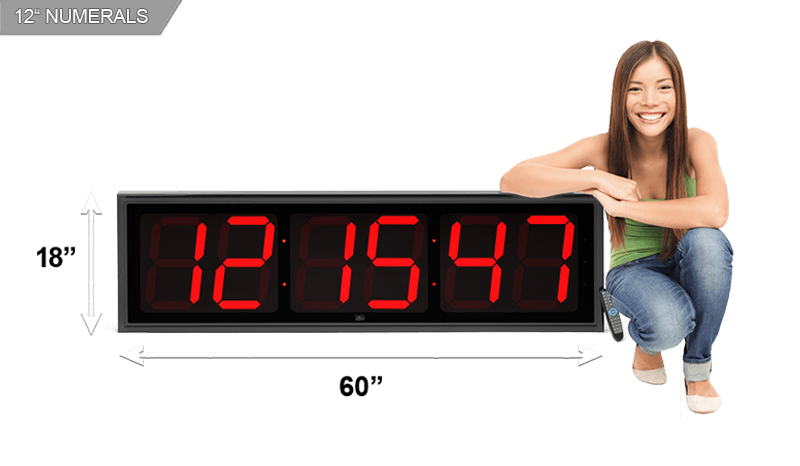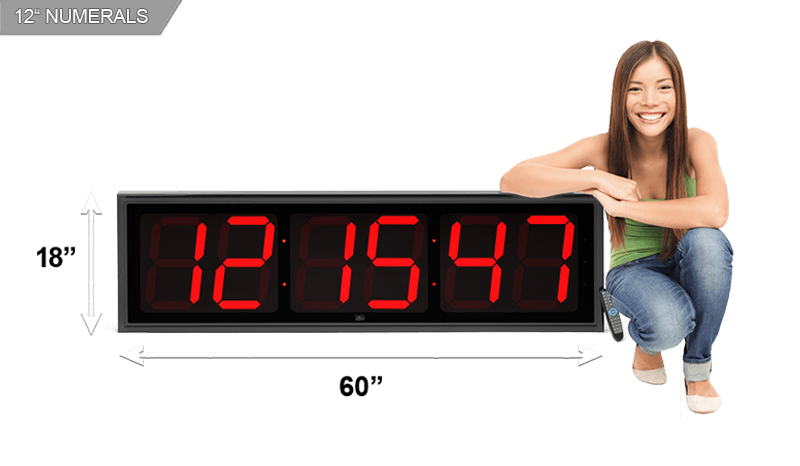 EXTRA LARGE 12″ NUMERALS LED COUNTDOWN CLOCK
COUNT DOWN/UP – INTERVAL TIMER – STOPWATCH
REMOTE CONTROL CLOCK
Only $549.00

Model 240 Instructions manual [pdf download]
Model 240 datasheet [pdf download]
KEY FEATURES
COUNTDOWN-COUNTUP AND INTERVAL TIMER – DISPLAYS HOURS, MINUTES, SECONDS
PRECISION CLOCK – DISPLAYS HOURS, MINUTES, SECONDS
STOPWATCH – DISPLAYS MINUTES, SECONDS, HUNDREDTHS
AUDIO OUT FOR AMPLIFIED SOUND
SPECIFICATIONS
Giant 12″ Ultra-Bright LED Digits
DIMENSIONS 60″ X 18″ X 1.5″
Weight:
BENEFITS
Long Distance Remote Control allows easy time and other settings on "the fly"
VISIBLE UP TO 450 FEET!
Energy efficient, only a few dollars a year in energy consumption
Wall Mount or Table/Shelf
Compatible with model300 7 Foot tripod for hanging clock option (plus link)
Internal battery backup lasts up to 7 years to retain time & settings during power loss
Power Source: 110 volt AC adapter is included
1 year warranty
FUNCTIONS
TIMER COUNTS DOWN FROM 99 Hours, 59 minutes, 59 seconds
TIMER COUNTS UP TO 99 Hours, 59 minutes, 59 seconds
Auto repeat countdown/countup program (endless loop)
10 second countdown/countup preparation option
STOPWATCH counts up to 99 minutes, 59 seconds, and hundredths of seconds!
INTERVAL TIMING program work, rest time, repeats and store programs
PRECISION STAND -ALONE CLOCK WITH SECONDS!
Super Fast Direct Input for time and other settings from the remote (not one digit at a time)
Mute the Buzzer Option
When the Buzzer is Muted the Digits Flash at the end of a Program
Control the Number of Buzzer Beeps
Store programs for direct easy access (count up, countdown, interval)
12 or 24 hour clock operation
APPLICATIONS
Schools, Gyms, Swimming pools, Racing, Lecturers, Churches, Training, Military, Factories and for personal use for vision or mobility impaired individuals.
Description
This incredible clock is essential equipment in any environment where timing is necessary. In warehouses, gyms, auditoriums, loading docks, sports facilities, Races. In physical education where drills and routines are timed or in school classes where tests are given or where speeches are given or in hundreds of other applications and as a stand- alone high accuracy clock with hours minutes and seconds. The remote operates from over 100 feet. Great for 5k,10k and all races. Every Physical Education Trainer/ Teacher/Lecturer needs this clock. All participants will be able to see time elapsing on the countdown clock or counting up on the stopwatch. It's a must in this environment and it can all be done remotely with the high powered remote control. Teachers will be able to conduct tests and the remote gives full control to the teacher. Churches can use this clock to keep track of sermons etc, Lecturers can pace their lecture. Use it to price for any services charged on a time basis and there are countless uses for the clock in all manner of industries and enterprises.
The timer is the heart of every training or academic exercise. There is just something about turning on a timer that motivates beyond belief. Racing against the clock adds an intensity that feels like head to head competition. The timer is our coach, our motivator, and the ruler by which we are measured. It is a must for accurately tracking progress.
In STOPWATCH MODE the clock times with minutes-seconds-hundredth of seconds.
In INTERVAL TIMER MODE the timer can program a desired work period followed by a rest period and the number of times you repeat the exercise. You can also store up to 8 programs for easy recall "on the fly".
Also available is the heavy-duty 7 foot tripod on which the clock can be hung
You can use an external battery to power the unit for over 10 hours on a charge where a power outlet is not available.